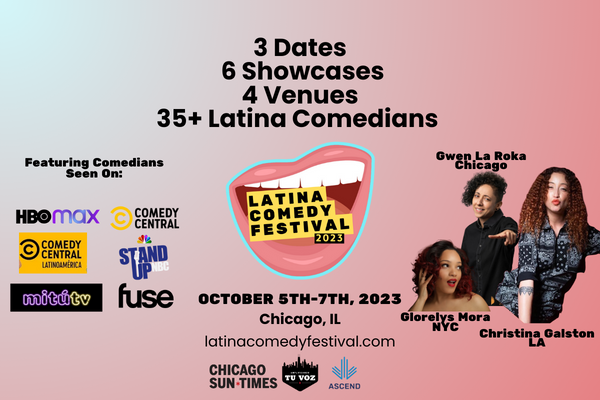 FOR IMMEDIATE RELEASE 
Contact Info:
Janice Rodriguez
Latina Comedy Festival
The Second Annual Latina Comedy Festival Grows for 2023
The team behind Las Locas Comedy, Chicago's only monthly Latina stand-up comedy show, is back with an expanded 2nd Annual Latina Comedy Festival from October 5th-7th, 2023, across multiple venues in Chicago. 
Chicago, IL September 19th, 2023 – The Latina Comedy Festival, produced by Las Locas Comedy, returns to Chicago from October 5th-7th, 2023 with expanded showcases at multiple venues in various neighborhoods across the city including Laugh Factory in Lakeview, Reggies in South Loop, Lincoln Lodge in Logan Square and JoJos Shake BAR in River North. The festival will feature the best Latina standup comedic talent from across the country including Chicago native Gwen La Roka (HBO Max), Los Angeles comedian Christina Galston (Comedy Central), and NYC comedian Shari Diaz (HBO Max). A panel of industry representatives and comedians reviewed comedian applications and selected performers were notified by September 11th, 2023 if they were accepted into the festival.
In an industry where Latinas represent less than 1% of comics booked at comedy clubs across the country (The Comedy Club Database), Las Locas Comedy has been committed to elevating diverse female voices. Almost in its seventh year, Las Locas Comedy is expanding their programming to include this annual festival to showcase comics from across the country – a feat made possible by the network they've built across the country with Latina comics from cities such as L.A., Austin, San Antonio, New York, Denver, and Miami.
The first iteration of the festival in August 2022, showcased 18 locally-based Latina and nonbinary Latinx/e comics performing short, rapid-fire sets at the Lincoln Lodge in Logan Square. In addition to our flagship 'Marathon Show' at Lincoln Lodge which will be at 5pm on Saturday, October 7th in this year's festival, producers have grown the festival to include 6 total showcases which will give selected performers multiple opportunities to perform to a Chicago audience. The festival will also include many chances for the comedians to network with each other and industry representatives during this jam-packed 3 day festival – which has now moved to Hispanic Heritage Month. Audience members will have an amazing opportunity to see heavy hitters and up and coming Latina comedians from across the country in talent-packed showcases. The festival will culminate on Saturday, October 7th at JoJo's Shake BAR with two special showcases headlined by the star of HBO/Max Entre Nos:The Winners comedy special and 2021 Latino Stand-Up Comedy Competition winner, Chicago's very own, Gwen La Roka. Full performer lineups and individual showcase tickets are now on sale via the Latina Comedy Festival website.
Las Locas Comedy believes the fight for representation creates a ripple effect in the comedy scene, propelling underrepresented talent to national comedy clubs and beyond. "There is so much amazing Latina comedy talent here in Chicago and across the country. Showcasing that talent through the Latina Comedy Festival platform will give comedians exposure to new audiences as well as introduce festival attendees to comedians they have not had the chance to see," said Las Locas Comedy founder and Executive Producer of Latina Comedy Festival, Janice V. Rodriguez 
Rodriguez, and their crew of "Locas" have proven time and again that there is a market for comedy written and performed by Latinas in an industry that continues to be dominated by a white male narrative. The positive feedback from last year's event and the growth of this year's Latina Comedy Festival shows that audiences want entertainment from diverse voices.
Showcase tickets and information are available at LatinaComedyFestival.com/tickets and more "loca" content can be found on social media at @laslocascomedy and @latinacomedyfestival.
About Las Locas Comedy
Las Locas Comedy is a Chicago-based monthly comedy showcase centered around Latinas and female comics of color. The show was founded by comedians Janice V. Rodriguez and Soli Santos in 2017 to provide a platform for Latina comedians and female comedians of color. The debut show was standing room only and their popularity has continued to grow with each subsequent show. Las Locas Comedy received the inaugural Lady Laughs Comedy Award for Best BIPOC Show, has been Chicago Reader Recommended, dubbed a "Must See Comedy Event" by Red Eye and selected to perform as part of Steppenwolf's Lookout Series in 2019 and 2023. In 2022, Las Locas Comedy's 5th anniversary show was also selected to be a WBEZ produced community event.
###