Home
Las Locas Comedy – Latina Comedy
LAS locas comedy presents: The Rooftop Show!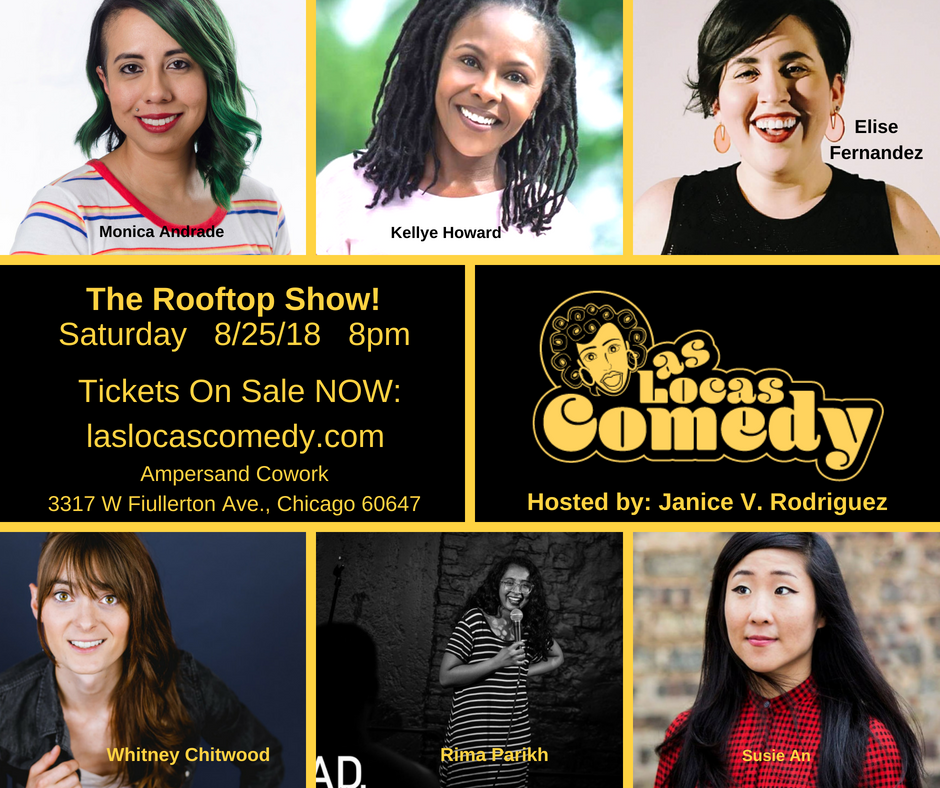 Summer isn't over yet! Come on out and enjoy an evening of Latina/Latinx comedians – and our favorite honorary locas on an amazing rooftop at Ampersand Cowork! BUY TICKETS TODAY!
Your host: Janice V. Rodriguez (Laugh Factory, Improv)
– Monica Andrade (Feminine Comique)
– Susie An (Mother Cluckers)
– Rima Parikh (Lincoln Lodge)
– Elise Fernandez (Diamond Comedy Hour)
– Whitney Chitwood (Laugh Factory)
– Kellye Howard (Laugh Factory)
What is Las Locas Comedy?
Las Locas Comedy is a Chicago's comedy showcase that highlights Latina/Latinx comedic talent and honorary 'locas' per show. In this crazy political climate, we wanted to create a platform to discuss issues and challenges facing Latinas, women of color and the LGBTQIA community in a thought provoking (and hilarious!) way. We celebrate diversity and inclusion and aim to create a safe space where our performers can share their amazing talents with an open-minded and accepting audience.
The original conversation:
"Wouldn't it be really cool if there was a showcase that really focused on Latina talent?"
"Yeah, that would be. We should do that. But we should also include our favorite locas- whatever ethnicity or background."
"Ok. Let's do it."
Three months into our run, we were selected as "Must-See" and "Recommended" by Red Eye and the Chicago Reader.
Come see what Las Locas Comedy is about!
Gracias! NObody puts anchor baby in a corner Was Amazing!
Las Locas Comedy had an amazing April show! We're so THANKFUL for the amazing talent and our loca guests who stood up in our crazy little show in warehouse! A special thank you to Anchor Baby Vintage for providing us the awesome space!
To all of our guests who have come to see our show again and brought someone new …or to our newcomers…we're so happy to have you at the show! We couldn't have done it without our LOCA performers. Please follow them on social media so you can see their next performance!